The Wall Street Journal have compiled article on Rei Kawakubo.
---
Since she launched her Comme des Garçons (French for "like the boys") fashion brand 41 years ago, Rei Kawakubo has always played by her own rules. Fascinated by challenging conventional standards of beauty, she's reconstructed "hybrid" clothes, sewn the left half of a jacket onto the right half of a different jacket and designed asymmetrical dresses made from her own vintage scarves—and that was all just in her last women's presentation. It's never just about creating something to wear, but rather expressing an idea.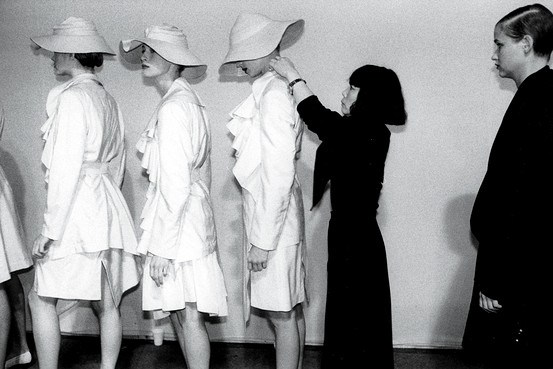 The 68-year-old, whose conceptual outlook has inspired everyone from Azzedine Alaïa to John Galliano and who still often clocks 12-hour days, seven days a week, is famous for saying she became a designer "to make a living." While that may be true, Kawakubo has also immeasurably changed the greater fashion landscape. In the early '90s, when collaborations were about as likely as getting Linda Evangelista out of bed for less than $10,000, she asked Junya Watanabe to design his own line under the Comme des Garçons label. In 2004, she opened London's still wildly innovative Dover Street Market. Since then, Tokyo-based Kawakubo has opened 17 stand-alone boutiques, tested mass retail with an H&M collection that caused a near riot in Japan and currently has 120 shops-within-shops around the world. Next March, a seven-story Dover Street Market will open in Tokyo's Ginza shopping district. Naturally, she's the architect and interior decorator. A woman of puritanical conviction, as evident in her strictly black uniform and severe bob, Kawakubo thinks it's important for designers to ditch the attitude and just get on with the dog and pony show.